Projection System
The projection system gives you the opportunity to change the appearance of you equipments: armors, weapons, weapon costumes and hairstyles. This projection will not change the item bonuses and will not give you extra bonuses.
For example, a
Desert Warrior (M, blk) can have the appearance of a
Kyanite Suit.

NOTE: If a costume was projected onto armor, the gender limit will also applies to the armor and vice versa!
Projection
You can project an item at Theowadan.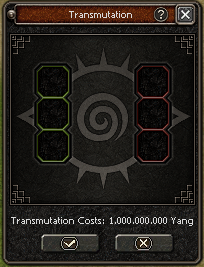 Put the item that you want to be changed in its appearance into the left slot
Put the item that you want to use as projection into the right slot (its appearance will be used on the item in the left slot). The used item will be destroyed!
Click on

. A verification window will pop up, click on "Yes".
The projection will cost 1.000.000.000 Yang.
NOTE: If the level of the item is increased (Example: +0 to +1) or the item is used to produce it, the projection is lost.
Projection Restrictions
You can only project weapon skins on weapons and vice versa as well as weapon skins on weapon skins and weapons on weapons.
You can only project costumes on armor and vice versa as well as costumes on costumes and armors on armors.
You can only project hairstyles on hairstyles.
Delete Projection
To delete the projection of an item you will need the help of
Delete-Transmutation, you can buy it at the Gaya Market.